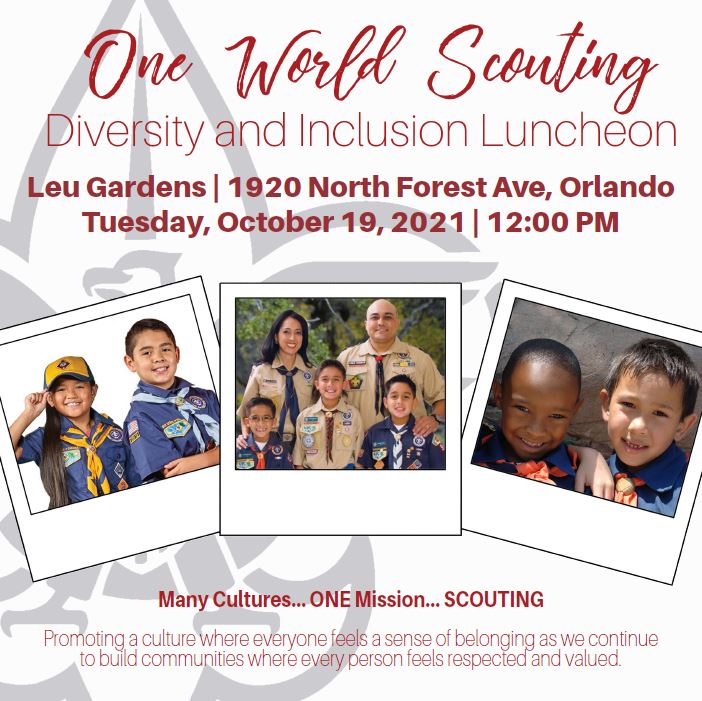 Scouting is a movement where people can learn from one another and share life together across differences of race, color, ethnicity, nationality, or language.
Scouting provides a lifetime of benefits. Youth in our programs improve their academic performance, increase their self confidence and self-esteem, keep themselves physically fit, given opportunities to serve their community, develop leadership skills, discipline, develop character, understand all cultural backgrounds, build their independence, and so much more!
This Luncheon provides a needed service that would not be possible without your support – providing unparalleled experiences to youth in Central Florida.
Scouting serves over 22,000 youth in Central Florida.
Now more than ever, we need to prioritize diversity and inclusion in our local community.  We need your help to fund Scout youth programs.  
Together, we can educate our future generations!  
To RSVP Event, please click here
To donate to support our underserved youth in Central Florida, please click here
2021 One World Scouting Sponsorship Packet
For additional information, please contact Tia Pendleton at Tia.Pendleton@cflscouting.org.