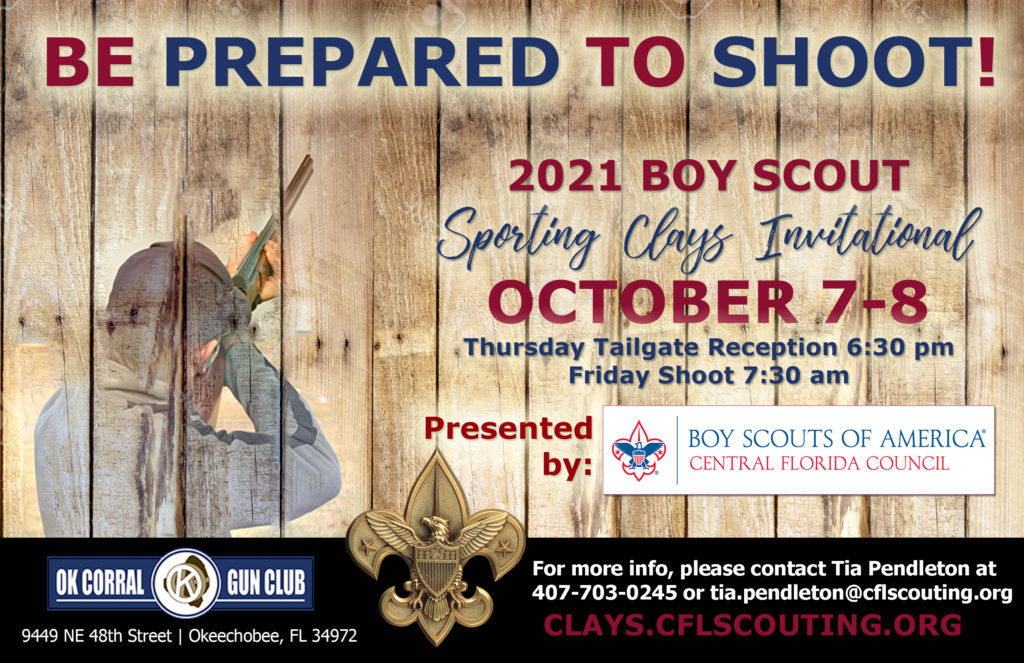 The Central Florida Council Sporting Clays Invitational is a premier event and a highlight of the year for many shooters. Teams will maneuver through scenic, fully automated, 14 station sporting clays courses at the lush native grasses of OK Corral Gun Club in Okeechobee, Florida.
Whether you are a lifelong firearms enthusiast or a newcomer to sporting clays, this outing will provide you and your guests a safe and thrilling day in a beautiful and relaxing setting. You can either bring your own shot gun or you can borrow some on site.
This unique fundraiser brings together Central Florida business and community leaders to participate in an outstanding event for a very worthy cause. Our event will be filled with the fun, camaraderie and excitement of a shooting competition, but it serves a larger purpose as well.
Our 2021 Sporting Clays Invitational is a vital fundraiser for the Central Florida Council, Boy Scouts of America. The Sporting Clays Invitational makes it possible for our organization to further develop and expand our character development programs for over 23,000 youth throughout Orange, Osceola, Seminole, Lake, Brevard, Volusia and Flagler Counties.