News from Timiqua District cont…
These boys have had to learn and acquire skill sets that are largely foreign to the majority of them. They were able to go the Summer Camp this past summer at Camp La No Che and like sponges they absorbed the best of the scouting experience. They bonded with an experienced troop that pretty much adopted these boys. The scout masters of the Viera troop stood in the gap mentoring these boys as well as working on and reinforcing skills. These boys appreciated their strong male leadership. Troop 635 got to observe and live with (for that week) the patrol method in action.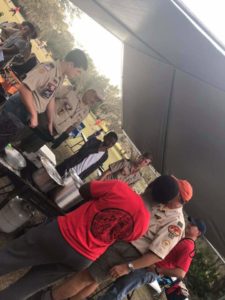 When Troop 635 went to TNAW (Tipisa Native American Weekend) last year one of the most challenging scouts found his passion for cooking and spent the entire Saturday of the event in the Dutch oven kitchen learning and serving alongside the host troop's Scout Masters.
This month Troop 635 was invited to join Troop 550 (a very old and established troop in DeLand) in a Webelos Woods event for two Webelos dens (Pack 550 and Pack 610). The patrols of Troop 550 taught the Webelos scout skills like knots, lashing, orienteering and fire building and fire safety and the small Troop of 635 taught the Webelos First Responder Adventure. Later Troop 550 invited Troop 635 to join their kitchen and the boys set out to prepare a fabulous pot luck dinner affair where all the units participated. I love to watch boys grow and function outside their element. A couple of the newest scouts to join Troop 635 got to learn firsthand how to do prep work and put together a rather challenging Shepherd's Pie Dutch oven meal. There is nothing like on the job training and now these new scouts know that to eat a meal means you actually have to prepare it (it doesn't magically appear)!! Each campout brings these scouts opportunities for personal growth and it is wonderful to observe examples of this personal growth. They got out of their comfort zone and overcame personal fears.
This Scouting program, we may take for granted, has opened up a new world for the scouts of Troop 635 and it is a world of awesome possibilities.
Unit Commissioner
Lydia Gregg
It's Family Friends of Scouting Season cont…
That's where Family Friends of Scouting steps up to bring the opportunity to families to support Scouting. Your gift supports Scouting's outdoor adventures at the Leonard and Marjorie Williams Family Scout Reservation, which contains Camp La-No-Che, Camp Rybolt, Scout Ranch, Camp Pooh Bear and Adventure Camp; trains Scouting Leaders; customer service at the Wayne Densch Boy Scout Service Center and community services such as Scouting for Food.
Be sure to support Family Friends of Scouting to assure Unparalleled Experiences for More Youth in Central Florida Council! Have questions? Contact your District Executive.
Welcome to the 2019 Camp Card FUNdraiser cont…
What are Camp Cards?
Camp Cards are discount cards to various businesses in our Central Florida Council service area. This FUNdraiser allows Scouts to earn up to $2 for every card sold for themselves or their Unit.
Allows Scouts a spring fundraiser to generate funds in preparation for summer camps
Relieves pressure for units to conduct a spaghetti dinner, car wash, pine straw sale, etc.
The card sells for $5.00 and is a great point for someone to support Scouting
Scouts can earn up to 40% commission, camp certificates AND more!
Incentives/Prizes:
Participating Scouts can earn commission and earn the prize of attending a camp of their choice! Scouts choose their goal level and seek out to reach it! Bi-weekly drawings are also held to help steer our Scouts to an unparalleled camping experience!
If you are not participating yet, there is still time for your Scouts or Units to join in on this amazing FUNdraiser. For additional information, please contact Tia Pendleton.
Capital Projects cont…
Another capital project provided in the fall was adding Wi Fi service in the Dr. Phillips Park area. The Wi Fi will provide internet service for Unit Leaders, Program Staff and the year-round Camp Staff. The Wi Fi service encompasses the areas from the W.T. Bland Dining Hall to the Rotary Lodge to the Brown & Brown Aquatics Center to the Jack Jennings Trading Post to the Camp Office Area to the Florida Hospital Health Lodge and back to the W.T. Bland Dining Hall. The Wi Fi will require the Unit Leaders to provide a password to access the internet. The Wi Fi project was supported by Smart City Telecom.
The Rotary Lodge went through renovation this spring funded and supported by the Lake Mary Rotary Club. The old windows were torn out and replaced with new windows. Next the 3 set of the Rotary Lodge double doors were replaced with new doors.
The old Waste Water Treatment Plant is being replaced by a new plant funded by Publix The Dr. Phillips Foundation. The current waste water treatment plant is made up of a larger 20 year-old plant and the original waste water treatment plant. The old plant is being replace by a new larger cement plant that will last much longer than the old steel plant.
Central Florida Council appreciates all the support and funding donations provided by multiple donors!! You can help support additional capital projects by buying a brick in the Seneff Plaza at Camp La-No-Che.
Spring Conclave cont…
At the conclusion of the Saturday evening show there will be a presentation of The Founder's Award; which recognizes Arrowmen who have given outstanding service to their lodge.
What else is going to be there? LOTS:
Spring Conclave will have all new never before seen Quest for the Golden Arrow events (Chapters compete in various games or sports for top place)
Quest for the Geritol (even the adults get to compete against each other!)
Festival of the Tipi
Annual Lodge Auction
Pow-Wow
Seminars
Any questions or comments, please contact us.
Yours In Brotherhood,
Adam Lucier – 2019 Spring Conclave Chairman
David Yanninck – 2019 Spring Conclave Advisor