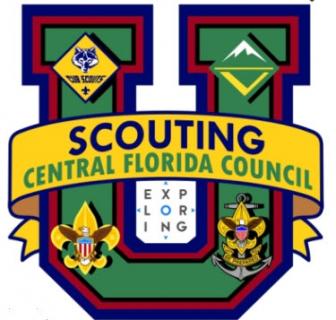 The cabinet of Central Florida Council's 2020 University of Scouting would like for you to join us for the largest annual single-day supplemental training event in the council! This fun-filled, action packed event is open to all Scout BSA youth ages 11 – 17, Venturing youth, leaders at all program levels, district and council volunteers, and parents. Whether new to Scouting or a veteran of many years, all who attend will leave with new ideas, fresh perspectives and practical information to take back to their program area. The University is diverse, inclusive, and dedicated to providing meaningful sessions that will help improve or enhance program for our youth. Visit the Midway during morning check-in, from 7am – 8am, and during lunch to chat with vendors and find out what opportunities await you in our area, state – and even out of state! The Scout Shop will have limited merchandise on hand. You can even get a name tag made while you are attending classes that highlights your program level or leadership position. Door prizes that you must be in attendance for at the end of the day closing program will be given away.
Save the date as you plan your annual ideal year of Scouting – January 25, 2020.
The CFC University of Scouting is organized and run by volunteers like you. There is one council-level staff advisor who follows the process. The University has about 130 different courses spread throughout six specific colleges, and one religious studies section offering courses to both youth and adults. The colleges are Youth college (Scout BSA ages 11 – 17), Venturing (ages 14 through adult), Cub Scout Adult Leader, Scouts BSA Adult Leader, General Studies and Commissioner Studies. Note that Commissioner Studies is different that the annual College of Commissioner Science offered in April of each year. The UofS classes enhance courses that are offered at the College.
University of Scouting Degree Program
While earning a degree is not required, it can be a fun way to showcase the training you have received! Join in the fun of the event and get your recognition with a degree certificate that acknowledges your achievements.
University of Scouting Associate Degree
First time University of Scouting participants or those who have not earned an Associate Degree in their college can earn an Associate Degree by attending at least five course periods (3 periods in the degree college, 1 from Commissioner Studies, and 1 from any college). Select Associate Degree during registration.
University of Scouting Bachelor Degree
Participants who have previously earned an Associate and wish to earn a Bachelor Degree can do so by attending at least five course periods (3 periods in the degree college, 1 from Commissioner Studies, and 1 from any college). Select Bachelor Degree during registration.
University of Scouting Graduate Studies Program
Participants who earn their Bachelor degree are eligible to earn a Masters Degree. All advanced Scouting degrees—Masters, PhD and PhD AD—have prerequisites that must be met in the year leading up to the University of Scouting. Therefore, if you are interested in earning a Graduate Degree, the Graduate Studies Senior Advisor must be notified before April by completing an Intent to Continue Survey (available online starting January 25th). Attendance at a Graduate Studies meeting is mandatory, as well as required extra-curricular activities. Eligible participants will be contacted via email after January 25th. Registered participants will be provided with detailed information about their graduate studies degree program via email and at their mandatory meeting.